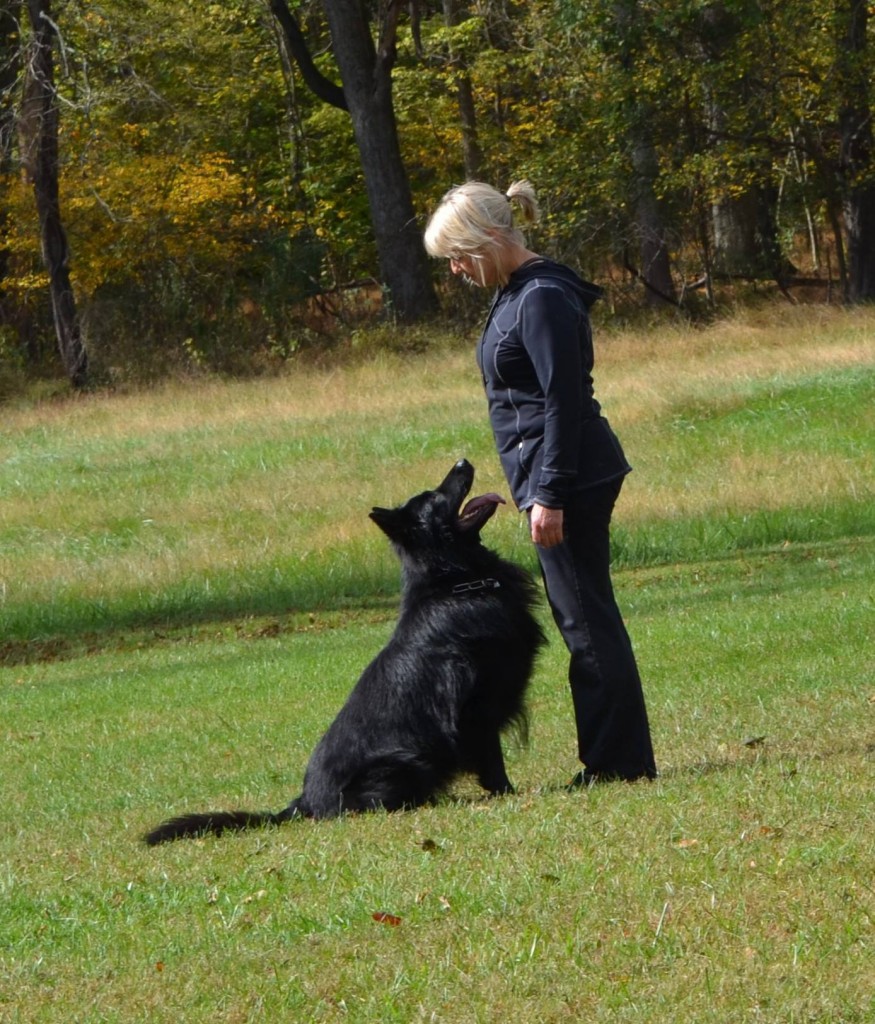 Since 2010, our passions for our dogs have led us down the road of training for and competing in dog sport. Our sport of passion was originally called Schutzhund, now officially known as IGP. From this sport, Deb Zappia and Theresa Currier created a new sport called American Schutzhund, which is now our sport of passion. We've been fortunate and blessed over the past years to have had the opportunity to train/mentor under Deb Zappia of Proformance K9, www.proformancek9.com and then under Beth Bradley of www.dog-training.biz! Both of these women have stood on many podiums of Championship competitions of National and International levels! Both have earned spots representing the U.S. on the World Team many times. In 2015, Deb Zappia made history in this international, highly competitive sport. She and her dog Iron Von Den Wolfen ("Eros") became the WUSV champions! She is the FIRST American to ever win the WUSV and she is only the second woman to ever win the WUSV!!
We now have formed an American Schutzhund Working Dog Club and will hold trials and seminars including Scent Detection here at our indoor and outdoor locations!
American Schutzhund/
IGP/IPO Obedience and
IGP/IPO Tracking
Whether you are starting foundation obedience training with a pup, working toward a BH, BT or going for your 1, 2 or 3 in either sport, polishing any of your training or just need help troubleshooting a problem and want someone to really pay attention to the details for you, need help with any of your existing training, or just want to get a feel for the sport, Karen can help get you where you need to go! Karen has gathered a lot of tools for her training toolbox, which has given her a great foundation to now help others. She also draws from her 20+ years of experience training pet dogs. Cost for private IPO/Schutzhund Obedience – inquire within for pricing details. Each session is approximately 1 hour and consists of two rounds. To schedule you may phone Karen at 443-545-9598 or email us at [email protected]. *Penalties for late cancellation will apply!
Board and Train is available for American Schutzhund or IPO/IGP Training with Karen Decker – Inquire individually as price is somewhat determined by the client's individual training needs and goals and the dog's current training status.
IPO/IGP Tracking
Weather permitting – PUPS can start your pup or older dog from foundation up or help troubleshoot problems you may be having. Cost for IGP/IPO tracking – inquire within for pricing. Please phone Karen at 443-545-9598 or email us at [email protected]. *Penalties for late cancellation will apply!
American Schutzhund Article Search and Scent Detection
We will provide training for the Article Search and will have regular workshops and additional training for Scent Detection. Inquire within for info and keep an eye on our Facebook page.
Protection Phase
In paying attention to details, we include many of the obedience pieces utilized in the protection phase within the obedience training without the dog even knowing it has a thing to do with the protection phase. As far as the bite work/protection phase is concerned, we have used only top-level helpers. Our club helper/trainer is an American Schutzhund certified helper. We work protection twice/month with him.